Updated, July 2, 2020
The first cases of Coronavirus (COVID-19) cases were identified in December 2019 in Wuhan, Hubei Province, China. On March 11, 2020 the World Health Organization declared the COVID-19 outbreak a pandemic. As the concerns regarding Coronavirus (COVID-19) continue to grow, we at Pet Food Experts have been carefully monitoring the information being shared.
According to the 2019-2020 APPA National Pet Owners Survey, 67% of American households (84.9 million) own at least one pet. During this challenging time, it is vital that businesses that provide products or services for the care of pets, and those that house animals are included among the critical infrastructure that is allowed to remain open throughout the crisis to ensure the continued humane care of animals.

To protect your business from mandatory state by state closures The Pet Industry Joint Advisory Council alongside other industry organizations has crafted this letter. Please fill out the form to sign the letter urging government officials to ensure that communities have the ability to provide appropriate care for the pets and animals that depend on them. A State by State COVID-19 Restrictions Tracking Document has also been created to help you view which states have already deemed pet stores to be essential.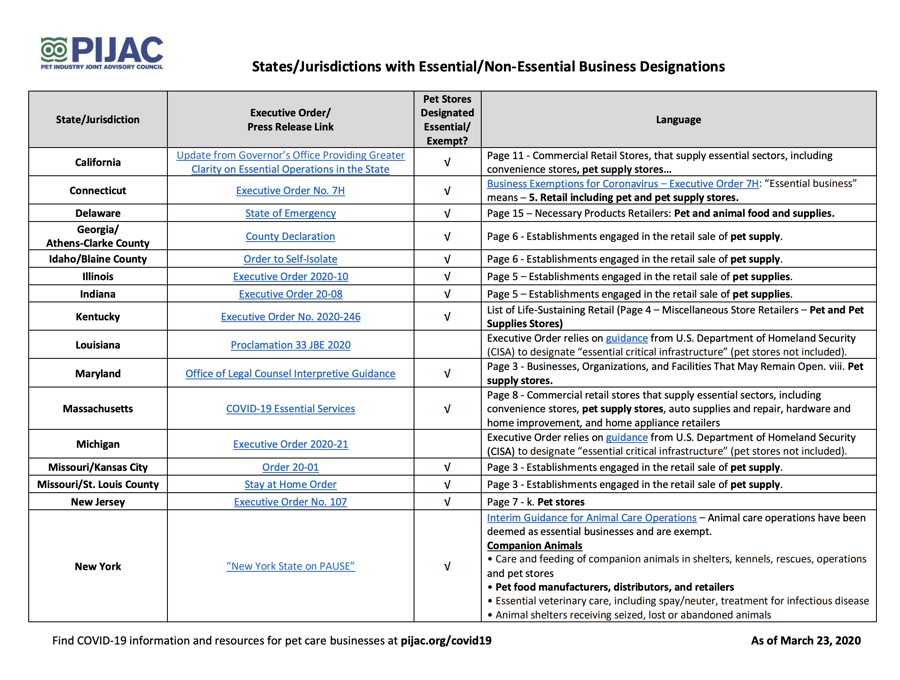 This page will be regularly updated with new information regarding COVID-19, for other updates from Pet Food Experts please visit our "Updates" page for more information.
Below are any statements from our vendor partners in regards to COVID-19. Please revisit this page often as we will continue to update and add additional information as it is available.
Please note, brands above are distributed by Pet Food Experts. For all other manufacturer statements in regards to COVID-19 please reach out directly.
Informative 3rd Party Links
Important updates for small business owners will be shared here: